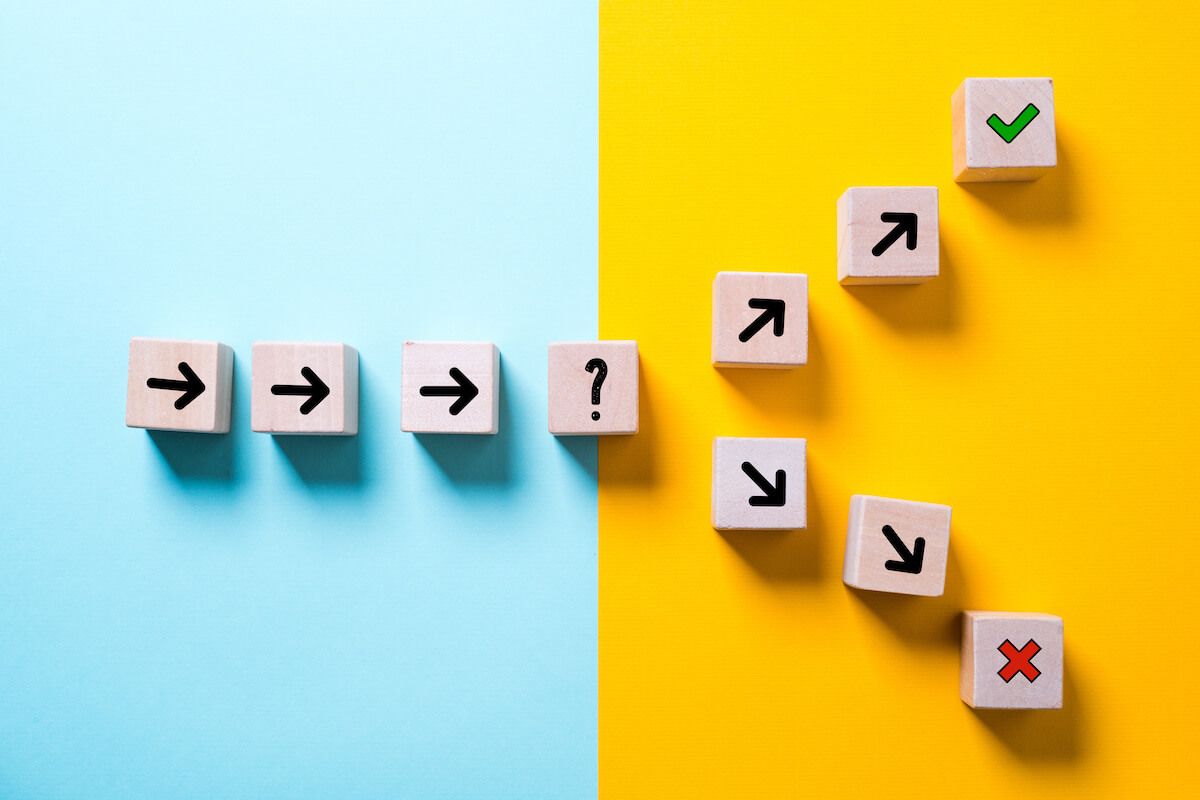 Learn more about critical thinking skills and how to enhance them by following specific, actionable critical thinking strategies.
Think back to the last time you made a big decision.
Maybe you were choosing between two jobs or whether to move across the country.
How did you make your choice? Most likely, you analyzed the pros and cons of each option and chose the one that made the most sense for you.
This decision-making process relied on an important skill we all need: critical thinking.
Critical thinking is usually associated with analyzing complex problems in a corporate boardroom or sitting through a tedious philosophy lecture. While those are undoubtedly valid applications of critical thinking skills, the truth is that everyone thinks critically every day — often without even realizing it.
Critical thinking strategies allow us to objectively evaluate information and make informed decisions based on logic and reason. The critical thinking process is essential for success in many areas, from business to academia to parenting. No matter your profession or lifestyle, learning how to think critically can improve your life in countless ways.
In this article, you'll learn more about critical thinking skills and how to enhance them by following specific, actionable critical thinking strategies.
What is critical thinking?
There are many ways to interpret the concept of critical thinking. Science, academia, and business all have their own viewpoints. An official definition of critical thinking is difficult to label, and that's logical. After all, the critical thinking process isn't about memorizing generic definitions — it's about asking questions for yourself.
At its simplest, the Foundation for Critical Thinking (FCT) Model defines critical thinking as "...the art of analyzing and evaluating thinking with a view to improving it." The critical thinking process is about being objective — seeing different points of view and keeping an open mind when new information contradicts your beliefs and opinions. Critical thinkers prioritize facts over emotions, remove biases, verify information, and use logical reasoning to solve problems.
When is a critical thinking strategy essential?
Sound reasoning is essential to making good decisions. Since we all make thousands of decisions every day, it can be beneficial to strengthen our reasoning and problem-solving skills.
However, critical thinking skills can be more than just helpful in some situations — they're vital. These instances include:
Interpreting the news. Social networking has changed the way we receive information. About half of U.S. adults get their news from social media, and more than a third regularly turn to Facebook as their source. Since anyone can share anything on social networks, fake news spreads quickly, so it's essential to think critically to discern fake news from accurate reporting.
In the workplace. According to the World Economic Forum, critical thinking skills are one of the top two skills needed for the future of work as the Fourth Industrial Revolution develops). Indeed, 93% of executives say "a candidate's demonstrated capacity to think critically, communicate clearly, and solve complex problems is more important than their undergraduate major."
Formal education and self-learning. Critical thinking skills help learners engage in the learning process. Thinking critically encourages curiosity, leading us to ask tough questions when faced with challenging situations or material and delve deeper into the new subject matter. As a result, we better understand the information and discover practical ways to integrate it.
Parenting. Parenting involves various critical thinking skills, from managing discipline to making care decisions. A constant stream of opinions and trends on social media makes decision-making even more challenging for a modern parent. Asking open-ended questions, researching claims, becoming aware of critical thinking barriers, and being skeptical of trends are necessary to make informed decisions about children's care.
These are just a few examples of situations where critical thinking can be helpful. There are many other areas of life in which critical thinking strategies are beneficial. To use them properly, you'll need to develop a few key critical thinking skills.
Critical thinking skills
Applying critical thinking strategies requires the use of a few essential skills. Experts identify the core critical thinking skills as:
Interpretation is the ability to understand and make sense of information. When we interpret something, we use subskills like categorization and significance to help us clarify the meaning.
Analysis refers to breaking down complex ideas and concepts into smaller chunks that can be better understood. This skill requires effectively examining ideas to identify the critical components or problems.
Evaluation is the ability to determine whether or not a particular claim or piece of evidence is valid and credible. Subskills like logic and reasoning help us judge the quality or value of something.
Inference is the process of drawing logical conclusions from the presented information. This skill helps critical thinkers understand new ideas by looking for patterns and connections between different pieces of information.
Explanation refers to effectively communicating in a way that others can easily understand. This entails simplifying complex information to present the findings of your reasoning in a clear way with well-reasoned arguments that look at the big picture.
Self-regulation is the ability to monitor your own thinking and behavior to improve performance over time. This skill allows critical thinkers to reflect on their progress and make adjustments to achieve better results.
Developing these skills will lead to better critical thinking. Skill development can occur in a wide variety of situations by practicing specific strategies.
3 critical thinking strategies to try
Developing and refining critical thinking skills takes time and practice. If you want to sharpen your problem-solving skills, here are a few critical thinking strategies you can use as a starting point.
Strategy 1: Comprehensive Analysis
A critical approach to any argument should begin with a detailed and systematic examination. When you break down the claim into elements, you can evaluate each segment separately to determine its legitimacy.
Language
Start by analyzing the language of the argument. Analyze the following factors:
Make sure that words are used in the correct context by checking their meaning
The definition of words within the context of the argument should be accurate
Make sure the language being used has clarity and makes sense
Verify the accuracy of the language in the statement to ensure it is fair and factual
Evaluating an argument's words and phrases is an essential first step to determining validity.
Structure
The next step is to examine the claim's structure. There is a basic structure to all arguments — one or more premises lead to a conclusion. The premise is the statement(s) that provides evidence supporting the conclusion. The conclusion is the claim that is made in the argument, usually highlighted by words like "so" or "therefore." Understanding this basic structure is essential to identify each piece for assessment.
Standardization
Consider standardizing the argument if necessary. A few situations may require restructuring into a standard structure. When a statement isn't logically arranged, extracting premises and conclusions and rearranging them make them easier to comprehend.
When more than one premise exists for a single conclusion, making two separate assertions with the conclusion makes it easier to assess each assumption separately.
Sometimes, an argument is missing its conclusion because the author implied it. It's often easier to understand an implied conclusion when the structure is broken down into a standardized format. In the same way, a missing premise can occur when part of the element is common knowledge or assumed.
Classification
As a final step, classify the argument. All arguments are either deductive or non-deductive. The strategies you will use to evaluate your argument will vary depending on whether your argument is deductive. Deductive arguments contain premises that guarantee their conclusions. The premises of non-deductive arguments cannot guarantee the truth of their findings.
Strategy 2: Utilize Bloom's Taxonomy
Another strategy that can develop the critical thinking process is Bloom's Taxonomy. Educators worldwide have used the framework created by Benjamin Bloom to define and distinguish different levels of human cognition, like reasoning, learning, and comprehension.
In the original model, there were six main categories:
Knowledge
Comprehension
Application
Analysis
Synthesis
Evaluation
In 2001, researchers, educators, and psychologists revised the taxonomy to reflect a more dynamic approach to education, changing the labels to represent the actions taken at each step of the system:
Remember
Understand
Apply
Analyze
Evaluate
Create
The six levels are arranged in hierarchical form, moving from the simplest level of cognition — thinking — to the highest, most complex level — evaluation.
Bloom's Taxonomy can serve as a useful critical thinking strategy in two ways. Teachers can use the taxonomy to promote critical thinking in their teaching strategies. By assessing the cognition level of their students, teachers can plan and deliver instruction at the appropriate level, ensuring that tasks and assessments align with the objective. Most importantly, they can tailor the types of questions they ask in classroom discussion by using strategic words that challenge students on different levels of cognition.
For classroom students and self-learners, the taxonomy provides a structured framework for decision-making. Students are guided through the process of critical analysis, starting with acquiring knowledge. As learners progress through the steps, they are encouraged to gather more information and examine it analytically before evaluating it to reach a decision.
Strategy 3: Apply the Falsification Theory
The Falsification Theory is an approach that aims to separate science from non-science proposed by 20th-century philosopher Karl Popper. In short, it implies that a scientific theory or hypothesis is falsifiable if it can be logically refuted by an empirical test. For example, observing a white duck can falsify the hypothesis that "all ducks are yellow."
It can be helpful to use falsification as a critical thinking strategy when evaluating new information or scientific claims. This encourages us to test our assumptions and seek disconfirming evidence. When we actively seek out information that contradicts our beliefs, we can more accurately assess the validity of our ideas by avoiding narrow thinking and removing bias.
The theory isn't without criticism, however. Skeptics argue that it's too simplistic. Some cite scientific theories (like Einstein's theory of relativity) that haven't been proven false yet are still considered scientific. Other people argue that some theories (such as Darwin's theory of evolution) have been tested and found true yet are still being tested and critiqued.
Whether or not the Falsification Theory is a perfect way of distinguishing science from non-science may be debated. Still, it remains a valuable tool for thinking critically about the information we encounter in everyday life.
Enhance your higher-order thinking skills
Developing higher-order thinking skills and refining the critical thinking process are essential for those who seek personal and professional development. Enhancing your decision-making abilities requires developing essential critical thinking skills and learning how you can apply them.
The three critical thinking strategies shared here are just a sample of the many strategic ways you can use the critical thinking process. Higher-order thinking takes practice, so don't get discouraged if it feels difficult at first. With time and patience, you can become a master critical thinker.
---
I hope you have enjoyed reading this article. Feel free to share, recommend and connect 🙏
Connect with me on Twitter 👉  https://twitter.com/iamborisv
And follow Able's journey on Twitter: https://twitter.com/meet_able
And subscribe to our newsletter to read more valuable articles before it gets published on our blog.
Now we're building a Discord community of like-minded people, and we would be honoured and delighted to see you there.
---